Selectivend* CB500 Soda Vending Machine
Vencoa Vending Machines prices are lower than vending machines from Selectivend, Fawn, Federal, or USI.
New Soda Vending Machine for Sale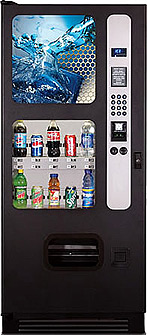 The USI / Selectivend* CB500 (Summit 500 - II) new soda vending machine offers ten soda vending machine item selections of cans or bottles. It boasts a specially designed, eye catching graphic and easy to change soda vending machine product display. This free standing soda vending machine is perfect for most soda vending machine locations, including offices, apartments, schools, factories, or hotels. It combines elements of both versatility and selection into one compact soda vending machine. The Selectivend* CB500 soda vending machine has the capacity for 500 soda cans or 240 soda bottles. This soda vending machine will accommodate 12 oz. cans or 15 oz, 20oz, and 24 oz. bottles.
Selectivend* CB500 Vending Machine Dimensions:
72" high
34.25" wide
29.25" deep
667 lbs
Electrical requirements are standard 115 VAC/60 Hz, 9 Amps.
Other great features of this soda vending machine include:
Guaranteed product delivery sensor
MDB/DEX communication capable
Coin mechanism and $1/$5/$10/$20 bill acceptor
Bright blue LED display with point of sale vending machine messages
Large and simple to use 10 key selection pad with back lighted keys and Braille surfaces
Easy to load product stacks and case support rack
Re-settable and non re-settable vending accountability
Electronic soda machine refrigeration control
Delivered Price: $2,795.00 (includes freight, delivery, and complete warranties)
More information on Selectivend* CB500 soda vending machine

Vencoa Vending Machines offers new USI Selectivend* soda vending machines at the lowest prices. We offer zero down financing on all of our soda vending machines for sale . Please feel free to return to our homepage or contact us for more information regarding any of our soda vending machines , including our Summit 500 soda machine.
For more information, please contact Peter LeVine or any one of his talented colleagues at (800) 223-4101, (650) 493-2258, or contact us through our Info Request form
All vending machines are priced lower than the identical machines from Selectivend, USI, Fawn, or Federal.
Plus we offer:
Zero Down Financing
Lower Interest Rates
Questions? (800) 223-4101 or contact us through our Info Request form
*Vencoa is an authorized distributor of USI vending machines and is not an authorized distributor of Selectivend products.