Alpine 500 Vending Machines
Vencoa's prices are lower than machines from Selectivend, Fawn, Federal, or USI.
Snack, Food, Soda & Ice Cream Vending Machine / Combination Vending Machine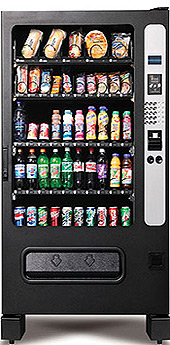 The Alpine 5000 single temperature refrigerated glass front combination vending machine will suit all of your food, dairy, snack, soda and ice cream vending machine needs. This new, refrigerated, combination vending machine can accommodate up to sixty selections of food, dairy, ice cream and soda vending machine items. The Alpine vending machine features a large glass front window to display all of your vending machine items. This combination vending machine is equipped with advanced I-Vend sensor technology to ensure vending machine product delivery.
Dimensions:
72" tall
41" wide
38" deep
975 lbs
Other great features of the Alpine refrigerated snack, food, soda and ice cream vending machine are:
Energy efficient design and foamed-in-place insulated cabinet door.
MDB/DEX communication capable.
Versatile and easy to adjust trays and helix coils.
Scrolling message display at the vending machine point of sale.
Coin mechanism and $1/$5/$10/$20 bill acceptors.
I-Vend sensor software to ensure product delivery or money back.
One push lever vending machine door lock, for easy use.
Meets NAMA health safety requirements to ensure product freshness.
Individually priced vending machine product selections.
More information on the Summit 500 soda vending machine
Vencoa offers new USI Selectivend* combination vending machines at the lowest prices. We offer zero down financing on all of our vending machines, fresh, cold food or ice cream vending machines, and soda vending machines for sale. Please feel free to return to our homepage or contact us for more information regarding any of our vending machines , including our Alpine 5000 combination including ice cream vending machine.
For more information on this combination and ice cream vending machine, please contact Peter LeVine or any one of his talented colleagues at (800) 223-4101, (650) 493-2258, or contact us through our Info Request form
All vending machines are priced lower than the identical machines from Selectivend, USI, Fawn, or Federal.
Plus we offer:
Zero Down Financing
Lower Interest Rates
Questions? (800) 223-4101 or contact us through our Info Request form
*Vencoa is an authorized distributor of USI vending machines and is not an authorized distributor of Selectivend products.